Decor
Patio Decorating Ideas
Your patio space is an extension of your home. Why not make it beautiful, functional and memorable by incorporating some of your favorite patio decorating ideas? In fact, whether your patio is an intimate section of your backyard or a large, multi-level space, it's definitely an area where you can show off your personality and style. Family, friends and neighbors often choose to hang out on patios when the weather is warm, so it's important to make it inviting and comfortable. With a few simple tips, it's easy to make your patio a place that people love to visit.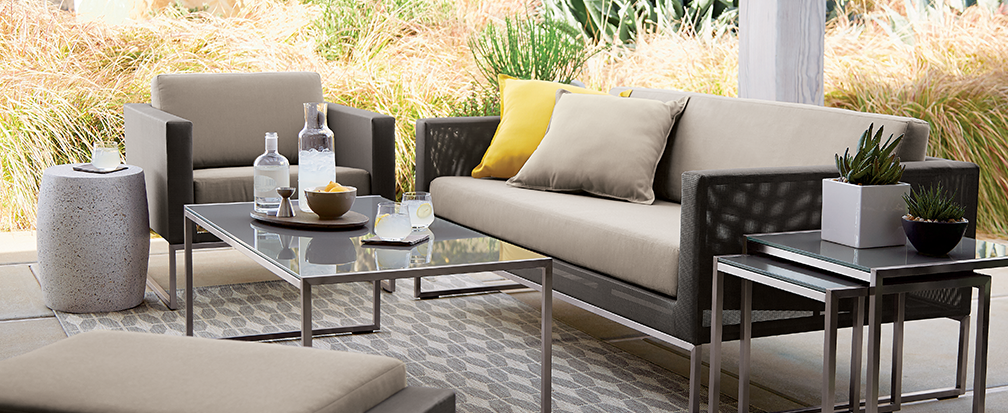 Consider these outdoor patio decorating ideas when planning your home's outdoor space.
Go vertical with your garden.
Contrary to popular belief, green does not always need to be below your feet. Search for modern planters in a variety of shapes and sizes, or even interesting wall-mounted planters, and fill them with beautiful flowers for a burst of color on your patio. Vivid flowers and well-kept gardens are an easy way to make guests feel at home.
Hang string lights around your patio to create ambient lighting for nighttime gatherings.
Strings of twinkle lights can add a fun touch to any family celebration, or vintage-looking Edison bulbs on a string can be more sophisticated for a grown-up get-together. Colored lights can also add an interesting twist to any patio party. You simply can't go wrong with lights.
Remember: Rugs aren't just for indoors.
In fact, there are many terrific indoor-outdoor rug options in a variety of colors, patterns, sizes and prices. Rugs will not only spruce up the look of the patio, but they can help designate areas like a dining section and lounge area if you happen to have a larger patio. The best part? Outdoors rugs are often made with durable polypropylene, and are a great choice for high-traffic areas because they can be vacuumed or hosed down for cleaning.
Think about adding some eye-catching decor to your outdoor walls, like the aforementioned wall planter filled with flowers.
Or even consider hanging a mirror or an outdoor-safe television. Outdoor mirrors are a great idea if you have plentiful wall space because they break up bare areas where traditional art cannot be hung because of weather considerations.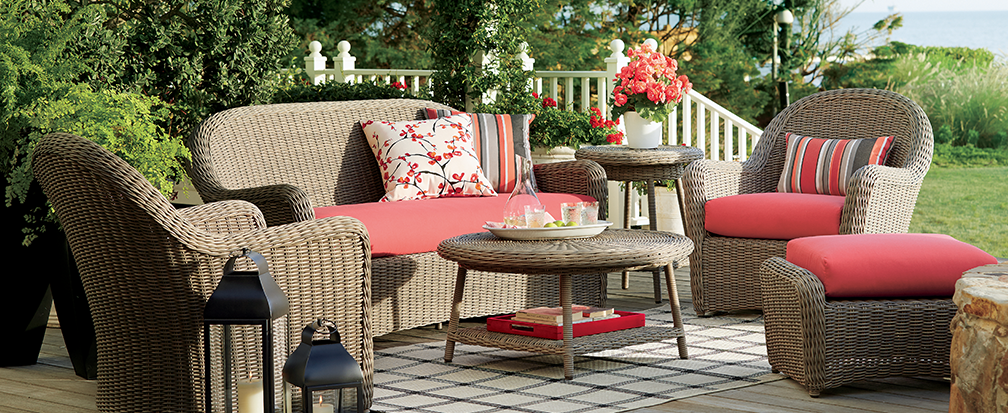 Try to spruce up the patio space with hints of color.
It's easy to bring in some bold hues by adding weatherproof pillows to your outdoor furnishings. If possible, change your pillows seasonally. Find pillows in light, bright colors in the warmer months and look for richer, deeper colors as the temperature changes. Throw the pillows on your sofa, sectional, chairs or ottoman—and you've added color with one simple change. Another idea? Find outdoor furniture like stools, chairs and chaise lounges, which often come in bright colors.
Finally, display outdoor accessories that really show your style.
Think lanterns, stools, storage boxes, benches or even a movable fire pit. Each accessory can add a noteworthy dynamic to your patio.
For any patio decorating idea you decide to bring to life, think functional, attractive and memorable. Guests will be begging to come back.
How do you decorate your outdoor patio? Share your space with us by using the hashtag #CrateStyle.
Back to Top