Decor
How to Decorate with Throw Pillows
More often than not, a room simply needs a splash of color or a new patterned textile to give it a whole new personality. So, if you're getting a little bored with your home decor and feel like it's time to add some oomph to the environment, updating your throw pillows could be the answer. With a few fun throw pillows, a room can go from basic to bold. It's that simple.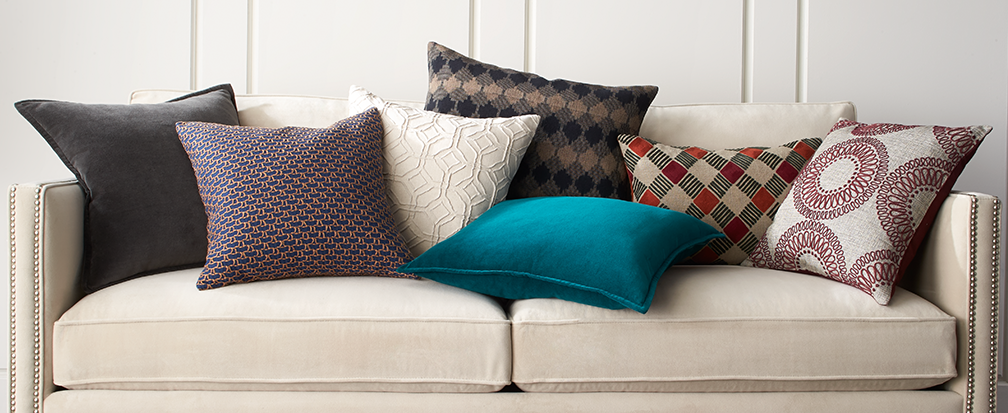 Mix and match pillows within a room.
One way to do this is to pick one common color to tie all of your decorative pillows together, but bring in different patterns, styles and shapes to keep things interesting. Pillows can be placed on chairs, sofas and even arranged on the floor to create inviting lounge areas. Try a few different pillow ideas in the same room.
Repeat the same pillow pattern on two chairs in your living room, or on either end of the sofa.
Even if the pillows are different colors, the shared pattern will tie everything together. You can also use different sizes of decorative pillows on the chairs and sofa. Anything to make the room more fun. Layering smaller and larger pillows on a sofa can add a unique twist and convey a sense of comfort and abundance.
Use solid-colored pillows to create a color story for any room.
Consider a tonal palette if you want a more monochromatic look. To give your room a wow factor, think brightly colored pillows set against a backdrop of neutral furniture. You can also layer patterned pillows with solid pillows for additional flair.
Draw attention to embellished pillows that look like one-of-a-kind finds by nestling them in front of solid pillows that are slightly larger.
This creates a frame or backdrop for showcasing your specialty pillow in a non-obvious way and adds an interesting twist to the room. Guests will definitely notice and ask about your unique discovery.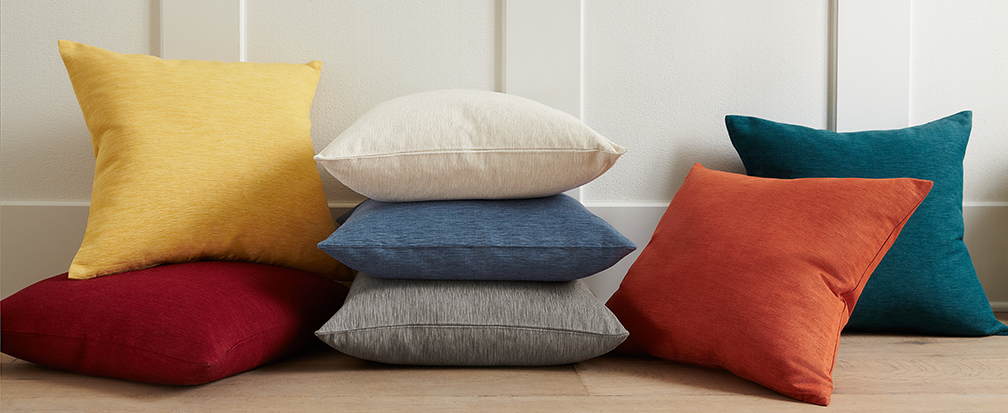 Use decorative throw pillows to define an entire season in your home.
Bright and colorful pillows complement sunny summer days; switch them out for warmer-toned pillows as the season moves into autumn. Fabrics can also play into this idea—try cotton and linen pillows when it's hot outside, and velvet or embellished pillows during cooler seasons. In winter, you can make your room instantly festive with holiday pillows. Use different pillow ideas to capture the ambiance of the season.
Scale your pillows to your furniture.
A low-backed upholstered piece looks great with rectangular pillows that don't overwhelm. An overstuffed sectional, on the other hand, should have lots of the biggest-sized pillows to add comfort to deep seating. There is a lot of freedom for interesting pillow ideas on sectionals, where you have plenty of room to mix and match patterns and colors.
No matter how you use them, remember that decorative pillows soften the visual edges of a room and almost always make the space more inviting. Not only do throw pillows show off your personal decorating style, they are an affordable way to update decor and make a room look fresh.
What is your favorite way to decorate with pillows? Share your tips and design ideas with us by using the hashtag #CrateStyle.
Back to Top