Holiday
Thanksgiving Home Decorating Ideas
All you need to do on Thanksgiving? Enjoy family, friends and holiday food. When it's your turn to host, try these easy Thanksgiving decorating ideas to transform your home for the year's most celebrated meal.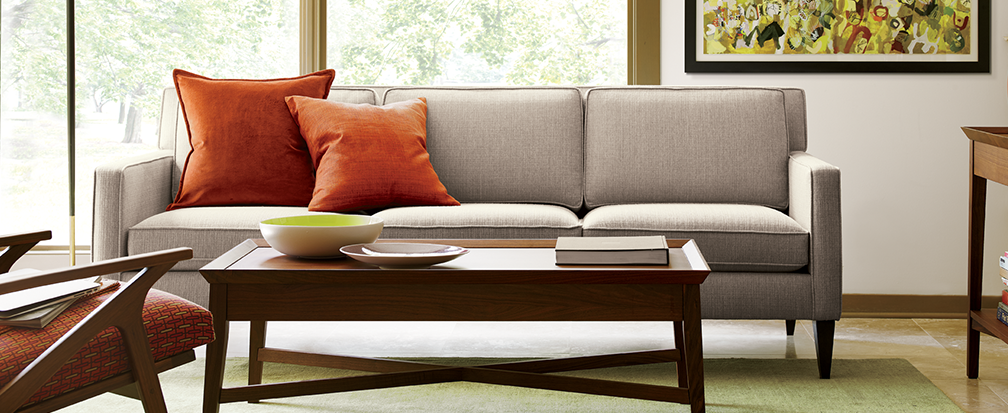 Embrace Thanksgiving Hues
Warm up your home's palette by mixing in accessories in fall colors. Dress up sofas with decorative pillows in classic autumnal shades—think saturated oranges, browns, taupes, burgundies and yellows. Drape a cozy throw over the back of a leather chair, make up the guest bed in a printed quilt and swap indoor mats and accent rugs that nod to the natural beauty of the season. Go a step further by temporarily replacing existing wall art with framed Thanksgiving-themed prints, pictures and paintings. Refresh the textiles on your dining chairs with slipcovers in warm-hued solids or rich patterns. Choose heavier fabrics, such as velvet, for a plush look.
Pass the Gourds
Bold colors and organic shapes make pumpkins and gourds the ultimate Thanksgiving decorations. Welcome guests with clusters of pumpkins along your front walkway or porch. Inside, scatter gourds everywhere: on an entryway table, atop a stack of coffee-table books and along a fireplace mantel among framed family photos. At the dinner table, decorate each guest's folded napkin with a tiny pumpkin, or slice open the tops of small, sturdy gourds and a insert handwritten place cards. Adding turkey-themed throw pillows and standalone turkey decor to mantels and sofa tables adds playfulness to your space. If you enjoy crafting, paint your decorative pumpkins or cover them with decoupaged fabrics for a designer look.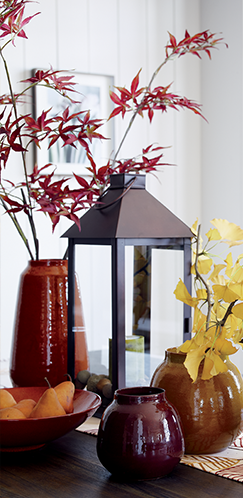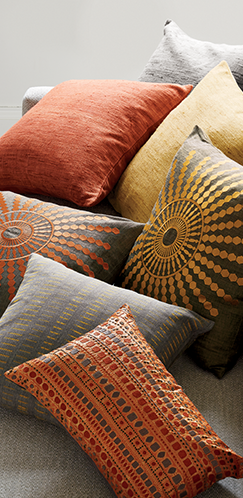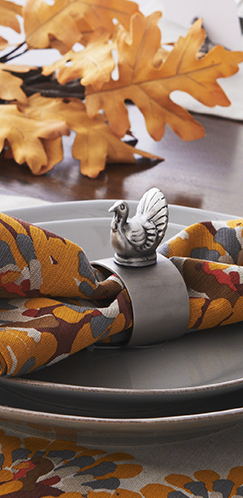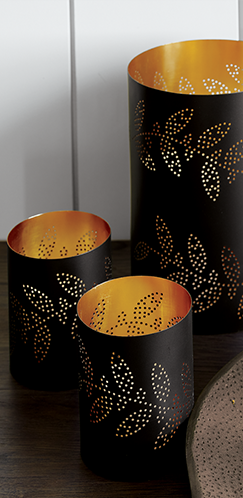 Layer in Texture
Nature offers up the best Thanksgiving decorating ideas, and you can often find what you need in your own backyard. Fill glass hurricanes and clear bowls to the brim with earthy acorns and pine cones. Try bundles of wheat in glass or ceramic vases of various heights to create your own amber waves of grain. Place rattan baskets in unexpected places—among books on a shelf, on one side of a console table or on the counter in a bathroom—and fill them with small red apples or ears of dried corn. Hang a seasonal wreath on the front door to greet your guests and set the tone for the holiday. On your front porch, fill planters with colorful mums or create stacked pumpkin topiaries. For a farmhouse look, place a scarecrow on a distressed metallic chair to welcome guests.
Soften the Light
Everything looks better bathed in a warm glow. Candles can go way beyond the dinner table, so try unscented tea lights flickering in brass-toned holders on coffee tables, among casserole dishes on the dining room buffet, along high window sills and even lined up behind the kitchen sink. Use classic metal lanterns to display larger candles outdoors or wherever you have extra pockets of space indoors—inside a fireplace, for instance. In smaller spaces, such as bathrooms, scatter a few miniature pumpkins around a scented candle in a metallic or glass hurricane. Play a soundtrack of solo classical guitar music, dim the lights and start burning candles just before your guests arrive to your newly decorated Thanksgiving home.
For more ideas for Thanksgiving decorating, visit Crate and Barrel's Pinterest page.
Show us your Thanksgiving decorating ideas by using the hashtag #CrateStyle.
View More Holiday Ideas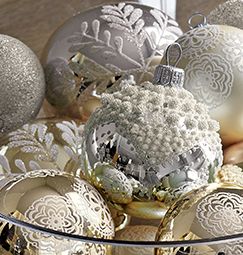 Decorate for the Holidays
Using Ornaments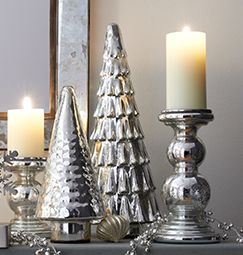 How to Decorate a
Mantel for Christmas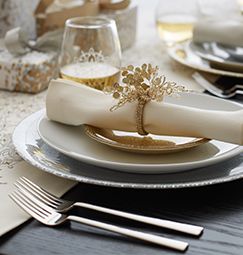 How to Decorate Your
Table for Christmas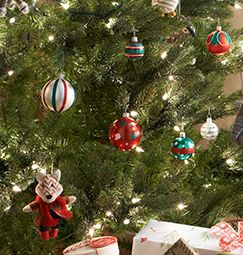 How to Decorate Your
Tree for Christmas
Back to Top