Decor
How to Incorporate Wall Art into Your Décor
Whether it's a painting, a photograph, a print or a one-of-a-kind, a beautiful piece of wall art is an easy way to add style to a bedroom, living room, entryway or any other room in your home and create an overall atmosphere. When it comes to purchasing wall art, don't feel pressured to select the most expensive or extravagant piece out there. Wall art works best when it's something you love, whether it's an appealing color palette or the way something makes you feel. With a few quick tricks, you can incorporate different styles of art into a decor scheme, making it possible to adorn each room with pieces you are excited about. From what to pick to how to hang it, here are a few wall art ideas to make it all work.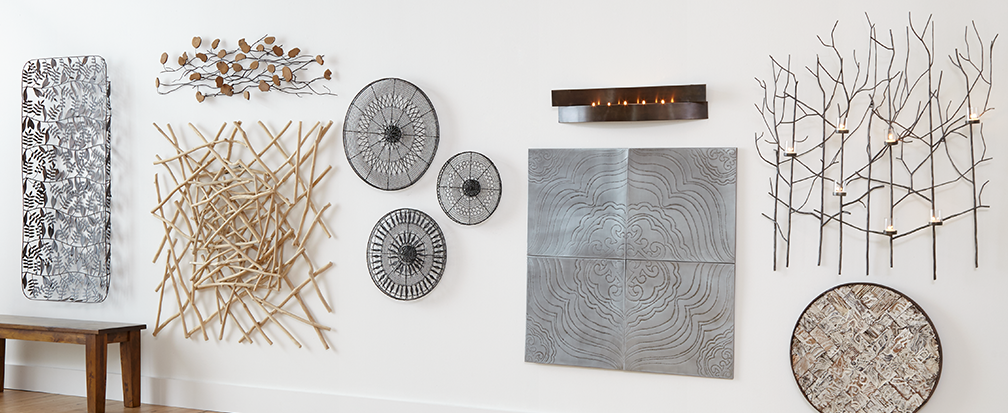 Create a cohesive mood and visual texture.
Think about the energy you want to feel when you enter a room, and choose wall art that elicits those feelings. For spaces with lots of activity, such as family rooms or kitchens, look for prints, photographs or wall art with vivid colors or lively movement. For more peaceful spaces, such as bedrooms or bathrooms, find pieces that evoke a sense of calm, such as watercolor paintings or black and white photography. Consider art that incorporates natural elements, including wood. Contrast wall art with decor and furniture throughout the room to create interest and depth. For an urban or industrial setting, mix metallic wall art with clean-lined furniture and understated textiles. Want a more unified look? Select pieces that compliment the room's furniture, color palette and atmosphere. Look for accessories, including candleholders and centerpiece bowls, that complement the shapes, colors or materials in the wall art.
Consider the desired impact.
Do you want the wall art to be the focal point of the room or melt into the background by merging with existing design elements? To make your wall art the focal point, you have a variety of options at your disposal. One idea is to use a monochromatic or neutral color scheme throughout the room and choose art that stands out from that color scheme. For another option, consider how your custom furniture arrangement leads the eye through the room. If your sofa is one of the first things you naturally view, hang artwork above it. A good rule of thumb is to choose art that is no more than three-quarters as wide as the sofa. Another great way to make artwork the focal point of a room? Choose an original, one-of-a-kind piece. In traditional spaces, consider oil paintings and watercolors. If you prefer a modern aesthetic, find original art showcasing mixed materials, such as wood.
In rooms that already have a focal point, such as a fireplace or a large window, you can unify the space by looking for prints and paintings that incorporates colors or materials in textiles, pillows and furniture. To effectively group multiple pieces, choose coordinating hues, shapes or materials. Looking for wall art ideas to create your own gallery in a hallway or entryway? Display multiple works by the same artist in complementary frames.
Use eye-level placement.
As a general rule, display wall art so that the center of the piece or collection hangs at eye level. In dining rooms or home offices, consider hanging wall art a little lower since you will seated. For clusters of smaller works, such as a collection of watercolors or framed photographs, keep spacing to less than six inches between each piece.
Feel free to experiment
Use paper templates and painters tape to experiment with different placement and spacing. This is a great way to determine the arrangement of paintings or photos of various shapes and sizes.
Showcase wall art with lighting.
Look for wall-mounted spotlights and install them above or below a large painting, print or photo. On mantels, use hurricane candle holders or lanterns on each side of a framed mirror for additional interest and dimension.
Above all else, go with your intuition.
When it comes to artwork, purchase pieces that you love, that you want to see every day, and that reflect your individual style. Then, incorporate a few of these wall art ideas to elevate the design.