Decor
How to Incorporate Wall Art into Your Décor
Whether it's a painting, a photograph or a print, a beautiful piece of wall art is an easy way to add style to a bedroom, living room, entryway or any other room in your home and create an overall atmosphere. When it comes to purchasing wall art, don't feel pressured to select the most expensive or extravagant piece out there. Wall art works best when it's something you love, whether it's an appealing color palette or the way something makes you feel. With a few quick tricks, you can incorporate different styles of art into a decor scheme, making it possible to adorn each room with pieces you are excited about. From what to pick to how to hang it, here are a few wall art ideas to make it all work.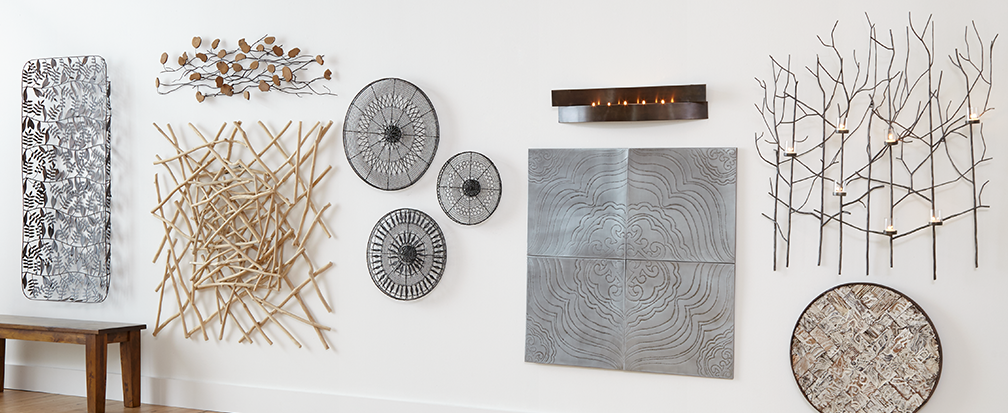 Selecting the art:
Think about the energy you want to exude in a room. If it's a high-energy area, like a family room or kitchen, look for brightly colored paintings or photos. For a space that's more peaceful, like a bedroom, look for more subdued pieces such as a watercolor painting or black and white photography to provide a sense of calm.
Use artwork and decor to create visual texture. Choose pieces that contrast with the rest of the room to create variety, or for a smoother, more seamless look, select pieces that compliment the furniture, feel and color palette. Accessories can provide visual interest as well, if the accessories in the room mimic the shapes in the artwork.
Consider the desired impact. Wall art can serve as a backdrop or function as a centerpiece. To make a stronger impact, give the rest of the room a monochromatic color scheme, which will turn the art into a focal point. Or allow multiple wall art pieces to work together by choosing the same hues or similar lines; the repeating colors or shapes will maximize the effect of the decor. Finally, display multiple works by the same artist, which creates cohesion—and also turns you into an amateur gallerist.
Displaying the wall art:
Use precise placement. As a general rule, hang a piece of wall decor approximately 6 to 8 inches above the nearest piece of furniture. The closer proximity will anchor the artwork to the rest of the furniture and make the room more cohesive overall.
For larger pieces of wall art, the rule shifts. The bigger the piece, the closer it should be to the furniture that it's accompanying or enhancing. Just keep the work at eye level and make sure it's not too high above the rest of the pieces in the room.
Think about additional accessories. Mirrors or lights, can further highlight decor pieces. Mirrors create an additional perspective on the piece, while lights can use both glow and shadows to create drama.
Go with your intuition. Above all else, when it comes to artwork, purchase pieces that you love, want to look at every day, and that you feel reflect your personal style. Then, use a few wall art ideas to make it work in almost any space.
How do you decorate your walls? Share your favorite ideas with us using the hashtag #CrateStyle.