Decor
Creative Ways to Use a Bar Cart
It makes your liquor look slicker, and seamlessly wheels rounds of apéritifs from the kitchen to the dining room. But don't sell the bar cart short: The four-wheeled wonder is more than meets the eye. Whether you're spring cleaning, redecorating, newly moved, or simply need a change, a bar cart is your ticket to a fresh look and smart storage. With our pro bar cart ideas, you'll learn its versatility, from the bathroom to the breakfast nook, the office to the playroom – and beyond.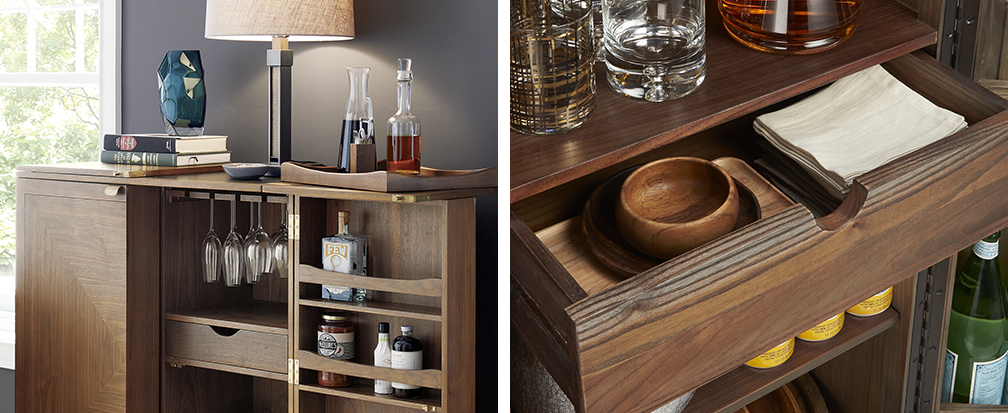 Coffee Cart
A coffee connoisseur's accessories deserve a shiny pedestal to match. Showcase your pour over coffee maker or French press, grinder, and favorite beans up top, along with a few of your favorite mugs. Use the drink cart's bottom shelf to store saucers, a cream pitcher, sugar caddy, and a glass of sleek spoons. Voila: Your bar cart is now a coffee cart.
Brunch Station
You'll win your guests' affection when you deliver a delicious family-style brunch on wheels. Simply stock the cart with the goods, placing your starters up top: a plate of scones, a platter of doughnuts, mimosa flutes. Slide a tray with the main course on the bottom (large dish of yogurt, carafe of milk, bowl of granola, frittata, pitcher of juice). Wheel it in, unload the meal onto an already-set table, and return the cart to the kitchen. When guests are finished, stack their used dishes on the cart and take an easy, spill-proof spin straight to the dishwasher.
Kitchen Storage
Almost everyone has kitchenware that's as pretty to eat from as it is to show off. Colorful platters, dishes, and specialty glassware are right at home on a drink cart. Swap out your display seasonally by changing color and pattern schemes, or customize to fit your guests' needs.
Office Supply Center
Bar carts make it easy to spruce up a drab office (and help you keep an otherwise messy desk organized). Pen and pencil cups, letter opener, and important documents live up top (add a family photo or succulent to mix it up). Use the bottom for extra cords, printer paper, and a coffee or tea maker for midday lulls. Wheel the cart to a nearby nook when it's not being used.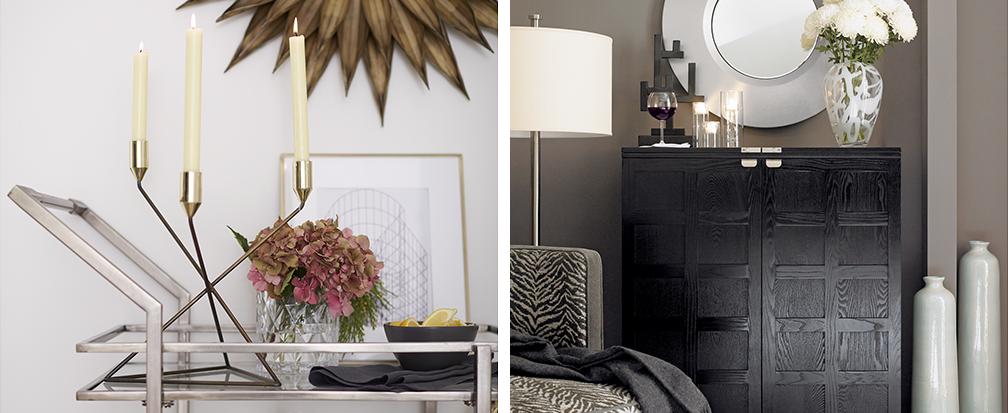 Beauty Cart
Just when you thought your bathroom drawers had reached capacity, in comes a drink cart to save the day. Use the top shelf for items you use every day. Special-occasion makeup, nail polish, and the rest can go below. Now that you're mobile, you can wheel your way to the best makeup-applying light in the house.
Arts and Crafts
Rather than closing the door to the kids' room, show off their creative impulses and stash their goods on a bar cart, (from crayons and coloring books to games and blankets). When it's playtime, they can easily and safely wheel their way to their favorite spot.
Plant Stand
With a few bar cart ideas in hand, giving your plants and flowers the best light is a no-brainer. Create a mini mobile greenhouse with plants that don't require much water (think: air plants, succulents, orchids). Keep a spray bottle, small pitcher of water, and a stack of gardening magazines below. Wheel the cart to a sunny spot when they need an extra boost.
Bedroom Décor
If you're low on closet storage, a bar cart is a smart, fun way to show off extra linens, throws, even a small pillow or two. Just be sure to fold those corners tight to keep things tidy. When guests are in town, you can deliver their nightly needs on the cart. Before they depart, ask them to place their used linens on the cart for a quick trip to the washing machine.
What are your favorite ideas for a bar cart? Share them with us by using the hashtag #CrateStyle
Back to Top