Decor
Designer Tips for Decorating Your Bathroom
Your bathroom or powder room should be a serene, simple and comforting spot for your guests and family. If you're looking to update one bathroom or all of your home's bathrooms, we're here to help.
Whether you're doing a complete remodel or working with what you have, it's quite easy to update the look and feel of your bathroom with these smart and simple bathroom decorating ideas: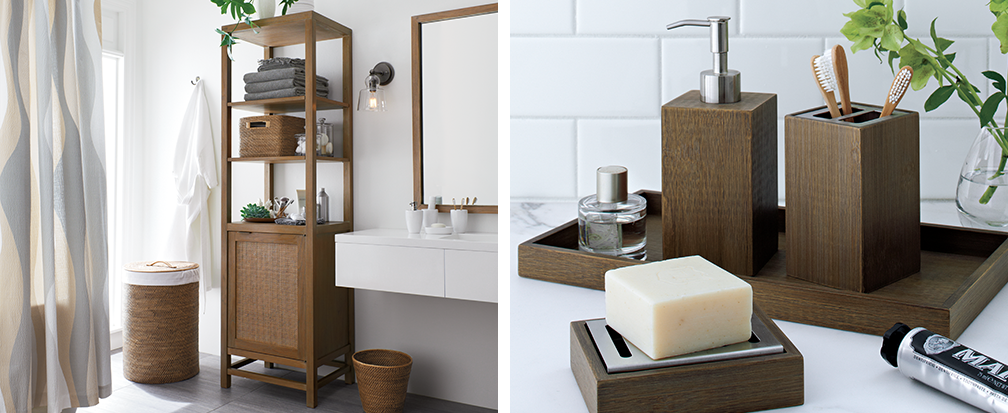 If You Have a Small Bathroom:
Try installing floating shelves which help create storage space without taking up floor space. If you have a pedestal sink, a small floating shelf can be a makeshift vanity shelf, as well. Floating shelves can also hold frames, candles and jewelry. The options are endless.
No drawer space? No problem. Hide clutter on shelves with storage totes or colorful boxes, baskets or bowls.
If you want to add some art to the walls, try a triptych of frames instead of one large piece. This could add a greater impact to a bathroom that doesn't have a lot of wall space.
If You Have a Larger Space:
Dramatic light fixtures, like a chandelier, sconces or pendant lights, can add a wow factor to a master bath or a bigger powder room. In addition, lighting in a bathroom can help determine the mood and style for the nearby rooms.
Mix and match the textiles in your bathroom. Choose a color scheme, then coordinate patterned towels with solid towels to bring everything together. If you opt to use solid color towels, try a patterned shower curtain to add an interesting touch to the space.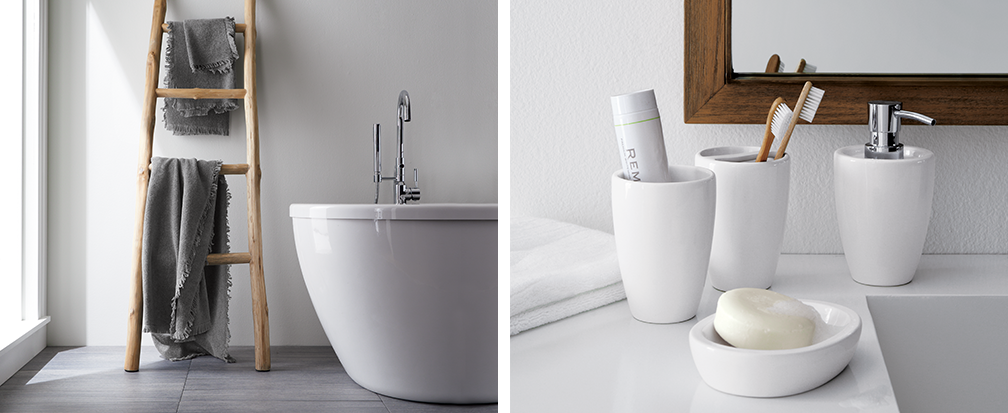 For Any Size Bathroom:
Beauty tip: Place wall sconces on each side of the mirror close to eye level. This will illuminate your face from both sides and above to eliminate shadows.
When thinking of the color scheme, consider the mood you want in the bathroom. Do you want to feel calm? Or do want more of a wake-me-up feel?
If you have windows in your bathroom, add softness with window treatments that complement the wall color. This is a good way to add in color, pattern and texture to the room.
Coordinate your towels, curtains, artwork and bath accessories. There is no need to be matchy-matchy, but make sure there is one consistent aspect, whether it be pattern, color or theme.
If you really want to liven up any size bathroom or powder room, consider adding a piece of art to the space as a bathroom decorating idea.
A few additional art-inspired suggestions for your bathrooms:
Add personality to the space with artwork that coordinates with the mirror, bath accessories or shower curtain.
Choose art that adds a sense of calm for your spa-like retreat. Don't feel restricted to just beach scenes and seashell prints. Go with what brings you the most calm. Maybe it's a black and white print or abstract art.
Art is a great way to dress up the bathroom, especially if you're renting. It shows your personality without making permanent changes.
No matter what bathroom decorating ideas you choose to implement, make sure it brings you calmness, happiness and organizational peace.
What are your favorite ways to decorate a bathroom? Share them with us by using the hashtag #CrateStyle.
Back to Top