Entertaining
Bridal Shower Theme Ideas
So, your daughter, sister, niece or best friend just got engaged—hooray! Are you looking to host a memorable bridal shower but aren't quite sure where to start? Consider her tastes and style. Is she a classic bride or a more modern one? Are her tastes glam, boho or something in-between? To help you plan a celebration the future bride will never forget, we've curated a list of bridal shower theme ideas organized around her personality. Read on for inspiration and get ready to host a party perfectly suited for the bride-to-be.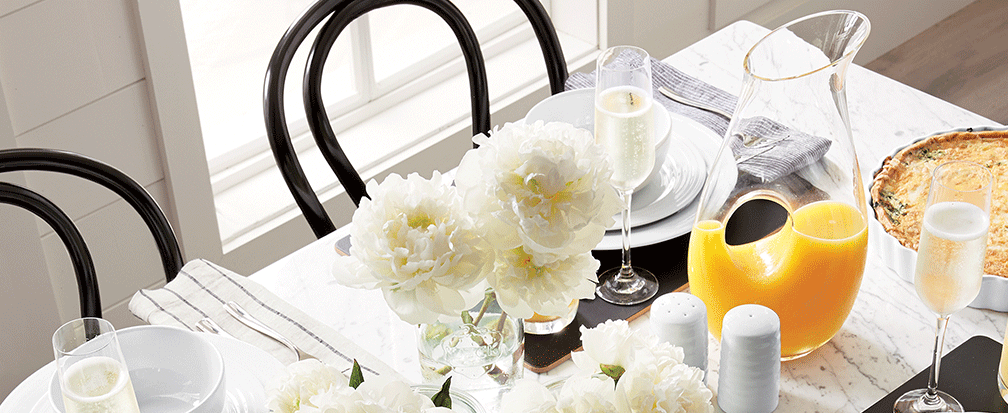 For the Classic Bride: A Champagne Brunch
Simple yet elegant, host a Champagne brunch for the classic bride. Decorate tables with delicate flowers in vintage-inspired vases and add table linens in muted pinks, ivory and cream colors. Serve a variety of sweet and savory breakfast foods, such as frittatas, bagels, pancakes and pastries. Encourage guests to craft their own mimosas with sparkling wine, a splash of fruit juice and a decorative garnish. For a party favor that attendees are guaranteed to love, tie paper straws with thank you tags onto mini Champagne bottles.
For the Modern Bride: A Bridal Shower Fiesta
The modern bride is trendy and full of personality. Host a colorful fiesta that she will never forget. Sip margaritas in fun glassware, and snack on chips, salsa and guacamole. In outdoor spaces, use melamine dinnerware to display a self-serve taco bar complete with tortillas, meat and finishing toppings, such as sour cream, lettuce, black beans and cilantro. Create a fun photo op for your guests to "say queso" by creating a brightly colored fringe photo backdrop and supply a variety props, including hats, sunglasses and hand-held-signs.
For the Casual Bride: A Retro Ice Cream Social
Host a retro-inspired ice cream social for the casual bride. To create the ultimate sundae bar, begin by placing bowls, spoons, ice cream cones and napkins at one end of a buffet table. Set out a variety of ice cream flavors and an anti-freeze scoop. Display an assortment of toppings, such as candy, fruit, nuts and marshmallows, in matching bowls with colorful spoons. At other end of the table, keep caramel, hot fudge, and other sauces warm in a crockpot. For partygoers with dietary restrictions, consider adding low-sugar, vegan and gluten-free treats to the dessert table. As a gift to the bride, create a date night jar. Have guests write creative date ideas on popsicle sticks, and at the end of the event give the jar filled with suggestions to future married couple.
For the Boho Bride: A Garden Tea Party
Have tea with the bride-to-be at a boho-inspired garden tea party. Display bite-sized treats and sandwiches on tiered serving trays. Brew iced tea before the event, and offer guests a variety of hot tea options. As a fun project for partygoers, set up a DIY flower crown station. You will need wire, floral tape, scissors and assortment of fresh flowers. Instruct guests to make a circle out of wire that will fit around their head, and use the floral tape to attach flowers and greenery to the crown.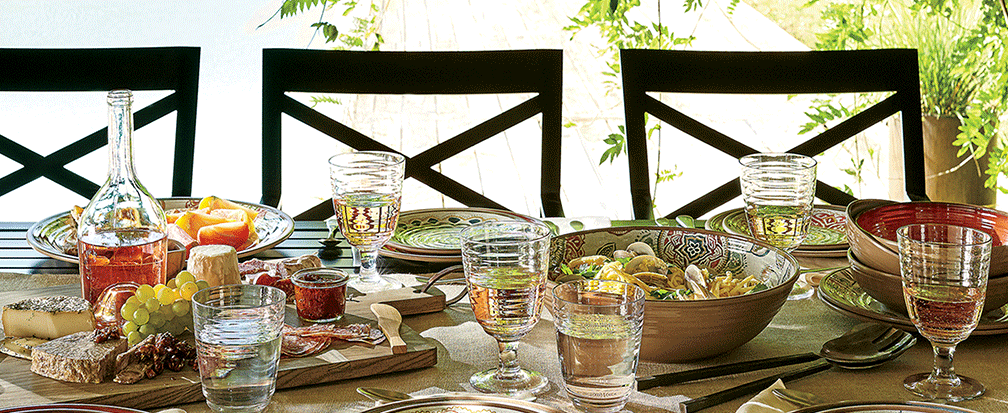 For the Rustic Bride: A Picnic in the Park
Celebrate your rustic bride-to-be with a picnic in the park or on the beach. If the ground is damp, use a tarp underneath layered blankets and pillows to create a comfortable sitting area. Serve simple finger foods that are easy to pack, such as a cheese platter, sandwiches and vegetables with dip. Bring outdoor activities, including badminton, cards, or frisbee, to keep guests entertained. For evening parties, consider lighting outdoor candles in lanterns to create an ethereal atmosphere. In the invitation for the shower, include a recipe card for guests to fill out and bring to the event. At the end of the party, the bride can enjoy a custom collection of special recipes from her friends and family.
For the Glam Bride: An All White Affair
Sophisticated and luxurious, an all white affair is the perfect bridal shower theme idea for the glam bride. The key to creating an elegant all white party? Decorate with a variety of white textures to add dimension while maintaining an airy feel. For example, place white tulips or roses in a glossy white vase on the dining table, and add a variety of linens to complete the look. For inspiration, consider elements you could pull from a wedding dress, including lace, tulle, and fabric rosettes. For an added effect, invite guests to wear white to the event and ask them to wrap their gifts in white paper.
Looking for the perfect gift for your favorite couple? Find their wedding registry or get inspired by our top registry gifts. Share your bridal shower theme ideas with us using the hashtag #CrateStyle.