Decor
Entryway Ideas
First impressions are the most lasting; your entryway is no exception. Designing the entrance to your home is an opportunity to shine. Think of it as an expression of your creative sensibility, curated in a compact space. Our creative entryway ideas challenge you to think outside the box. When you're finished reading, you'll have all the necessary tools to show your guests your design and organizational prowess — from smart storage to accessible accessories.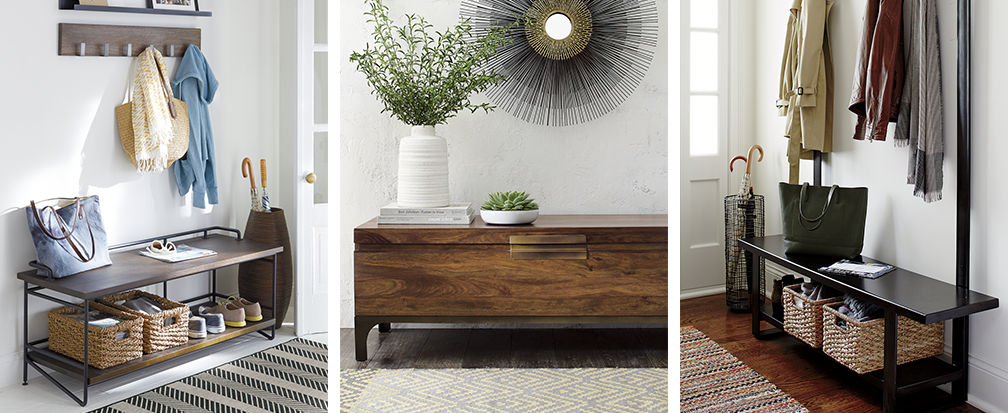 Smart Storage
Keeping your entryway tidy speaks a thousand words. Thankfully, we've got entryway ideas up our sleeve that will help you avoid the entryway-as-dumping-ground rut. All it takes is a few key pieces and a strategy and you're good to go.
First, assess the size of your space. Then make a list of the belongings you use daily that you like to keep close at hand (think: keys, outerwear, bags, school accessories, umbrellas, shoes, dog leashes). Next, choose an anchor piece such as an entryway table, cabinet/chest, bench, even a narrow, sleek office desk. If you have space, tuck a decorative accent chair into the table or desk. Tip: custom upholstery will instantly elevate the whole space. Consider height and width, your storage needs, and material; you'll want to choose something that can stand everyday use. We love pieces that play many roles, whether it's an entryway bench that doubles as a coat hanger, a bench with drawers to stow away extra mittens and scarves, or an easy-on-the-eyes side board that keeps your belongings behind closed doors.
Designated Spaces
To keep everything organized, designate a spot for each family member to keep his/her stuff. Baskets add rusticity and are easy to grab and go. Wire baskets hold larger items like winter accessories and slippers, and felt bins slide easily under benches. Letter trays handily stack, minimizing clutter and making it easy to divide between multiple household members. An umbrella stand makes it easy to keep dry on rainy days; some even double as vases so you can fill with florals in sunny weather. If your anchor piece doesn't have a shoe compartment, try a boot tray to maintain dry floors (and feet).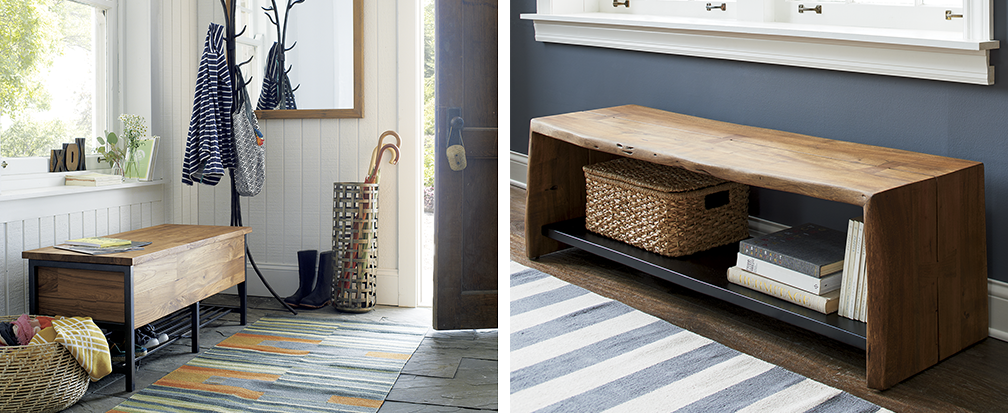 Use Your Walls
If you're short on space, small entryway ideas abound — it's all about making your walls do the work. Wall-mounted coat racks hang dog leashes and scarves in addition to outerwear. Longer shelves can act as a floating console, and display shelves and picture ledges can be arranged at multiple levels to showcase your favorite mementos. Look to office and kitchen accessories, too: Memo clips are small enough to place on shelves for important letter-keeping; mug trees can work for keys if there are multiple drivers in your house; and bulletin boards offer an easy method to post notes and news before you leave. If there's room, hang a wall clock to help you stay on schedule.
Accessorize
Now that you're armed with entryway organization ideas, you can move onto entryway decor ideas — a mix of complementary accessories that inflect your personality and add warmth. Mirrors make your space bigger and brighter, and have an added functionality benefit. Larger-scale metal wall art and framed prints draw the eyes away from baskets and storage containers, as do photo vignettes using a collection of different picture frames. Play up your entryway with creative lighting such as table and floor lamps and candles in hurricane candle holders. Botanicals add life and visual interest, so be sure to have a few vases on hand for both large and small plants and/or flower arrangements. Trays and platters provide a nice base for your accessories setup (play with geometry, using round shapes on rectangular surfaces).
With our storage and decor tips in hand, your entryway will please you as much as it does your guests. And you'll be able to make a statement without saying a word.
What are your favorite entryway ideas? Share them with us by using the hashtag #CrateStyle.
Back to Top