Decor
How to Decorate a Mantel
Decorating your mantel can be a daunting task. With a flat, open stretch of wood or marble, where do you even start? Fortunately we have plenty of mantel decorating ideas that can easily make your fireplace the design focus of your living room.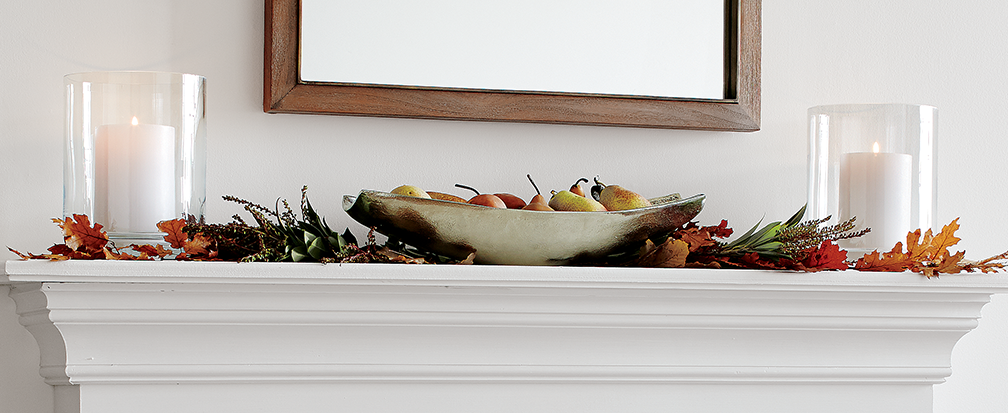 What's behind your mantel design is just as important as what's on top of it.
The decoration doesn't always have to be about the mantel itself. Often, the most eye-catching mantel displays are created by the backdrop.
Reflect the room, double its elegance. Mirrors make a modest room double in size. They also allow your eye to focus on what you choose to place directly in front of them. Adding a pop of sparkle on either end of your mantel–gold candlesticks or a small silver sculpture–is magnified by its duplicate image in the mirror.
Bring in natural beauty, make it front and center. Centering a sweeping, oversized watercolor print—whether of wildlife or nature, or simply an abstract work–above your mantel is all that's needed to make your entire living room come alive. Rich in color and depth, it not only visually increases the expansiveness of the room, but it is also the simplest way to give the room a modern, stunning artist appeal.
Lighting is the best way to make your mantel display shine.
There are a few great options for brightening your mantel.
Add candles or bulbs, give it some radiance. Lighting is everything. It sets the ambiance and makes a given space the focal point of the room. There are three easy ways to make your mantel display luminous: First, try a mantel full of candlesticks. They should rise to different heights and have two or three opposing patterns that are consistently interwoven (sleek versus ornate, for example), but the color scheme should remain two-tone (gold and white, for example). Second, a pewter or metallic table lamp, for example, looks great on one end of a mantel–although any textured material will work. Alternatively, choose a bright, primary colored glossy base for a little flair. You can also install identical sconces like bookends above your mantel. For a retro industrial look, choose sconces with visible hardware. Third, wrap your mantel in twinkle lights to give it some glow. These never go out of style, and they'll make your living room extra cozy.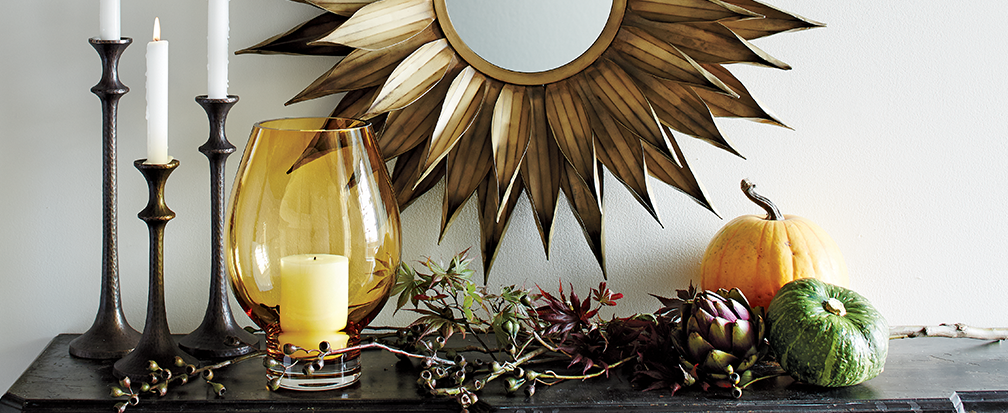 Layer, texture and color are the keys to making your mantel display impressive.
When figuring out the best items to place atop your mantel, these tricks are tried and true.
Layer it with frames, fill it with memories. Never has there been a mantel display gone wrong when filled with contemporary silver, gold, or wooden photo frames. Mix up the size and placement to create depth and symmetry. You can otherwise create a collage of small framed prints.
Texturize it with materials, create a theme. Fill a glass terrarium with flower buds, or a smooth, shiny vase with jagged or leafy botanicals. Create a nautical themed mantel using a clear glass vase filled with seashells, a thick knot of caramel-colored yarn, and a silver lantern.
Create interplay between colors, set the tone. Start with some plain white glazed ceramics: Classic pitchers, bowls and plates. Add bits of color among them: Light green foliage or metallic-sprayed branches. White, pewter and beige color combinations pair nicely against a white mantel, as do less neutral colors against mahogany. Arrange a collection of multi-colored, slender glass vases of varied heights for a display that will create rainbow colored prisms when sunlight bounces off of them.
As the aesthetic focal point of the room, your mantel has near-limitless potential. Make it beautiful and dynamic, and be sure it's reflective of your unique interests and personal style.
What are your favorite mantel decorating ideas? Share them with us by using the hashtag #CrateStyle.
Back to Top