Planters & Gardening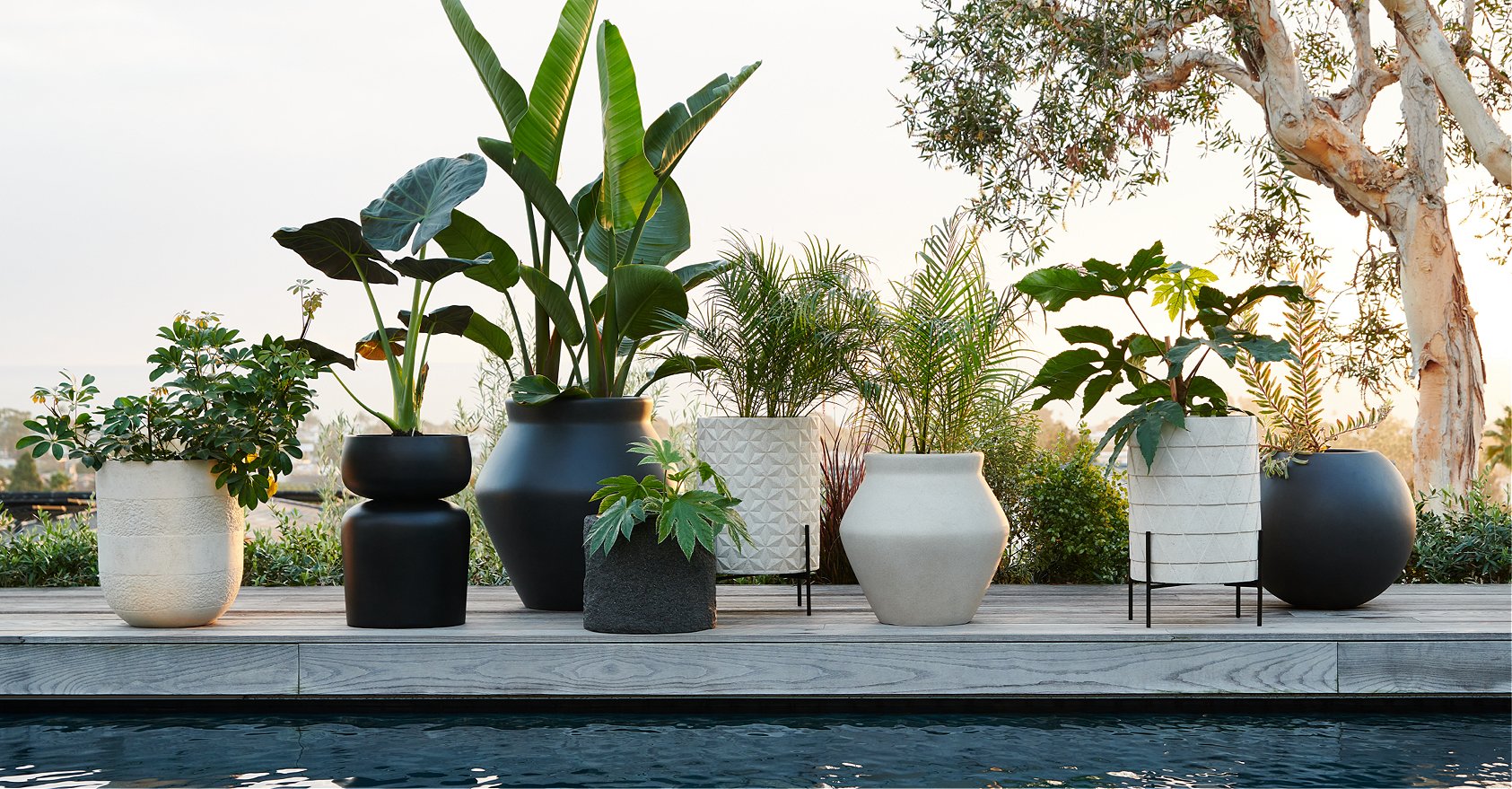 Planters are our favorite outdoor design secret. Use these modern beauties to
define your space, add height and drama, and channel serious paradise vibes.
How to Use Outdoor Planter Pots
The simplest, easiest and most enjoyable way to ready your patio for summer lounging and entertaining is to decorate with plants in outdoor plant pots. Fresh green ferns, vibrant flowers and textured hedges in lively flower pots and stylish garden planters spruce up any space. Greenery or flowers in stylish outdoor planters are the perfect natural accent to an outdoor sanctuary centered on a u-shaped patio sectional. Find outdoor standing planters and plant pots in the shapes, sizes and styles you need to create the perfect escape in your own backyard, Get creative and create an entire container garden for large or small spaces with options like an indoor/outdoor planter box or wall-mounted planters.
Decorating with Outdoor Planter Pots on Balconies and Patios
Whether you are decorating a small outdoor space like a garden or balcony or a large patio, abundant, flourishing greenery literally breathes life into your space. Plants in textured and sleek modern pots for plants can help fill out the nooks and crannies of your space, making it feel full, lush and calm. Diversifying your botanicals by type, color, size and appearance will not only give your patio a unique look, but they will also give you more variety to work with when arranging your garden planters. For a tranquil space to relax outside, space planter boxes or standing planters in different heights around a comfortable outdoor bench. While small flowers and buds can easily be placed on side tables or along a deck railing, they are also perfect for planter window boxes. Try potting small perennials there—petunias and pansies are classic choices, and both add rich, natural color to your space. Window boxes and rail planters are also ideal for fresh herbs. If your barbecue grill is on the edge of your patio, consider a large planter nearby stocked with plenty of herbs. This keeps all that fresh, fragrant goodness right within reach of the grillmaster to pick or trim, and to garnish dishes. The shapes and colors of the outdoor planters you choose will set the tone for your deck. White planters with clean, modern lines make any backyard feel contemporary, minimalistic and collected. Outdoor garden pots in black or other dark shades lend a subdued, upscale look to the area. Whichever garden plant pots you opt for, stylish designs complete the outdoor setup.
Seeding Indoor Plant Pots and Outdoor Planters
If you know you want to decorate with outdoor plant pots before the growing season begins, start your seeds indoors. You can easily accomplish this with indoor planting pots in sizes and styles suited to match your other indoor decorative objects. Easy-growing kitchen herbs such as basil, rosemary, thyme and chives can grow indoors all year round. Because herbs are small plants, they can easily be moved outside in their original pots if you choose indoor outdoor garden pots or you can choose to transplant them to patio plant pots with a different style to suit your outdoor decor. Whatever type of seeds you choose to start indoors, consider both how big they will grow and the size of outdoor planters they will require, as well as the kind of sunlight, water, space and watering they will need as they sprout. Once it's warm enough to continue growing outside, you can create a garden work station by choosing an outdoor accent table with storage for garden tools and room to set everything out when you head out to care for your plants.