Holiday
Ideas for Christmas Candy Gifts
Visions of sugarplums dancing in your head? Christmas wouldn't be Christmas without candy canes and other iconic treats of the season. Give a holiday gift that's too sweet to resist.
Whether you're an experienced cook or just learning your way around the kitchen, homemade Christmas candy gifts are always welcome. If they fill the air with delicious aromas as you create them, so much the better. You might even have a few pieces of candy left over for yourself and your elves.
There's a reason old-fashioned holiday candies remain popular year after year—everyone likes them. Why not make a gift of your favorite peppermint bark, buttery toffee or peanut brittle? Cut or break into pieces and put them in containers that will come in handy long after the candy is gone. We love clear glass canning jars—they come in many sizes and display their contents nicely. If you like, cover the lid with a paper doily or square of festive fabric and secure it with baker's twine or ribbon. Add a tag and tiny ornaments or jingle bells to make it extra jolly.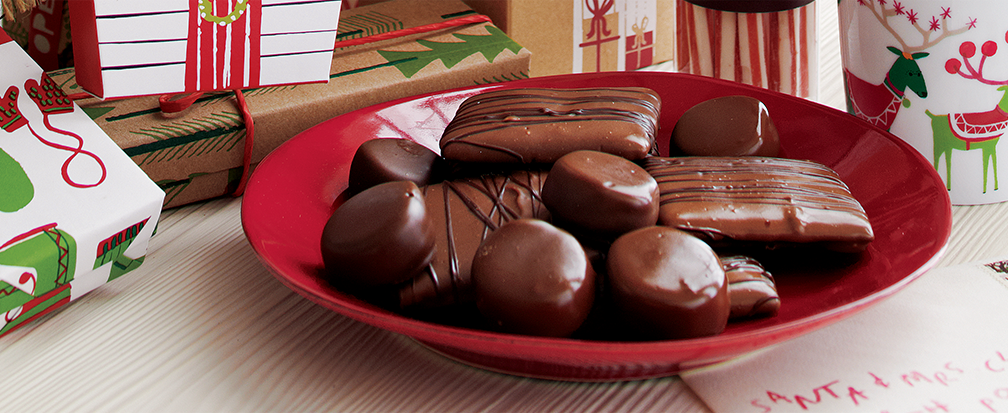 Making Candy for the Holidays
Chocolate candy is simple to make—especially chocolate-covered nuts. Melt good-quality dark or milk chocolate in a microwave oven or in the top of a double boiler and stir in walnut pieces or unsalted almonds. If you feel like experimenting and don't want to use nuts, try crunchy breakfast cereal or chow-mein noodles instead. Spoon bite-size portions onto waxed paper or a silicone mat on a cookie sheet and refrigerate until firm.
Chocolate-dipped pretzels are also an easy gift to put together. Melt milk, dark or white chocolate and dip small, twisted-style pretzels into it. (Hint: Don't try to cover the whole pretzel. Half-dipped pretzels hold just the right amount of chocolate and your fingers won't get messy.) Refrigerate until firm.
When you're ready to wrap, line a purchased gift box or tin with waxed paper and fill it with chocolates,then tie with a ribbon and tag. You can also create your own gift box by wrapping the lid of a plain box with special holiday paper and adding a bow.
Candy for Hosts
Need a present for holiday hosts? If candy making doesn't fit into your plans, candy giving still can. Look for your favorite sweets and confections packaged all ready to give in holiday tins or boxes like nut brittles, peppermint bark, white chocolate covered pretzels or chocolate peanut butter bites, or customize your presentation in a beautiful glass bowl, candy dish, soup bowl or even an oversized coffee cup. All sorts of serveware, baskets and storage containers could work, and don't forget barware. Different-colored candy sticks or individually wrapped hard candies in a brandy snifter or a large, stemless goblet might be just right. It's fun to wrap this Christmas candy gift in cellophane—red, green, or clear—gathered and tied at the top with ribbon, maybe with a candy cane or two tucked in.
If a chocolate-based candy isn't your hosts' style, try homemade peppermint marshmallows, caramels or sweet popcorn mixes. For a classic holiday treat, consider old-fashioned hard candy in festive seasonal colors. Looking for something rich and decadent? Try truffles—popular and easy to make, candies can be customized with rich flavor profiles.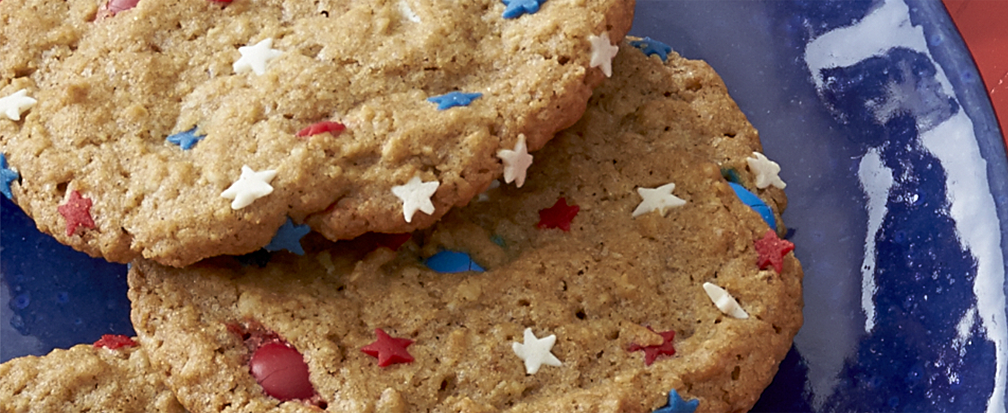 Gifts for Making Christmas Candy
You don't have to be a pro to make fudge or other simple candies. Novice cooks on your gift list? Help them begin their own holiday traditions by giving them what they need to make Christmas candy at home. Mixing bowls, a double boiler, a set of colorful spatulas in different sizes, a candy thermometer and a silicone mat are a good place to start. Add a candy cookbook or a few of your own favorite recipes for a personal touch. Even if the recipient has all the tools they need in their kitchen, sweet treats inside a gleaming new set of lidded storage bowls is a thoughtful gesture and adds an extra kitchen storage component to the gift. A bright dish towel, apron or pot holders complete the kit.
However you convey your message, Christmas candy is one of the great pleasures of the season. Make it, buy it, wrap it up with a bow—a gift of sweets gets a warm welcome on even the chilliest day.
Considering gifting candy to a teacher you appreciate this holiday season? Check out our other creative teacher Christmas gift ideas while you're at it. Share your Christmas candy gift ideas with us by using the hashtag #CrateHoliday.
View More Holiday Ideas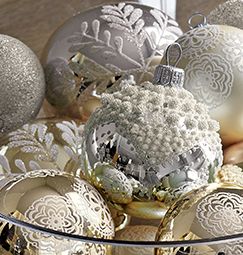 Decorate for the Holidays
Using Ornaments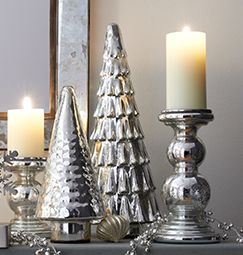 How to Decorate a
Mantel for Christmas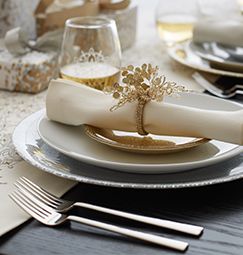 How to Decorate Your
Table for Christmas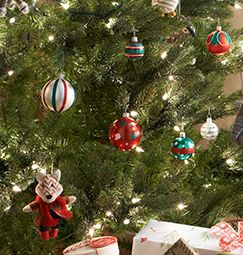 How to Decorate Your
Tree for Christmas
Back to Top