Decor
How to Decorate a Bedroom by Color Scheme
Your bedroom should be a reflection of who you are not only in your waking life but also in your dreams. A place to go at the end of the day to regroup, refocus, and recharge. Which means that as you grow and change, your bedroom should evolve with you. Reimagine your space with one of these bedroom color schemes and design ideas.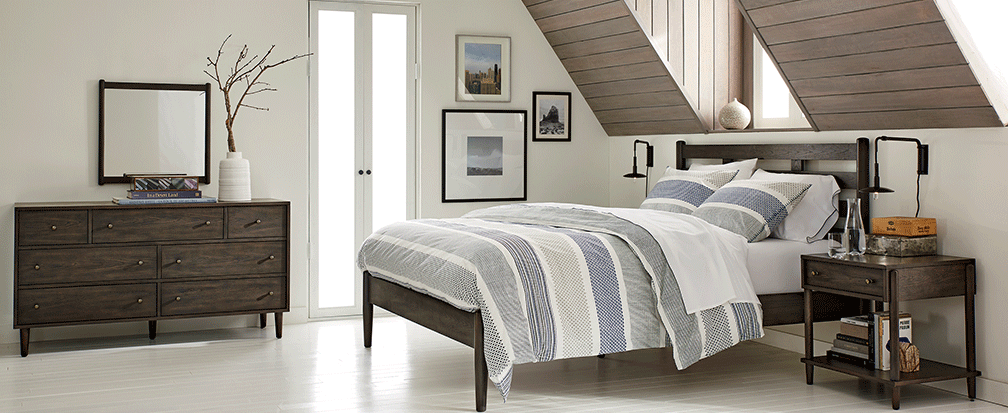 White Out
White is having a moment. And for good reason. White walls, in combination with white painted trim, can make even the smallest bedroom seem larger. White also creates a clean backdrop for your personal design elements—whether you choose a bright painting or a tufted upholstered headboard. If you're in the market for white bedding, consider mixing textures, like linen and quilted cottons, to add depth to the room. But always try to keep the whites in the same tonal family.
Pattern Play
When choosing color schemes for bedrooms, don't limit your choice to what you see on the color wheel. In today's design world, patterns are as versatile as colors making stripes, florals, plaids, and polka dots welcome additions to your bedroom. The key to making prints work—be it as bedding, pillows, upholstery, or wall coverings—is balance. Be sure to choose patterns and solids in the same color family. You want to have a mix of delicate, mid-size, and large scale patterns and textures. Too much of one will throw off the balance of your room.
Moody Blues, Greys, and Blacks
Some people are afraid to use dark colors for bedrooms, but the right shades of navy, grey, and even black can set the right tone—a moody one. Dark wall colors in combination with plush rugs and cozy bedding can feel every bit as inviting as a brighter space. Dress the windows in dramatic long sheer curtains to let light filter through and give key accessories like brass wall lamps, metallic side tables, chandeliers and mirrors a chance to glow and shine.
Bold Color Blocking
For a modern touch, turn to color blocking. It's a great way to incorporate a bedroom color scheme without running the risk of overdoing it. Paint a rectangular outline around your headboard, choose a single wall to highlight, or add a wide, single stripe of color down or across a white wall. The rest of the elements in the room should be kept minimalist and streamlined. Think modern furniture, single color linens and simple draperies. Let the wall art, lamps and accessories serve as pop art by providing a complementary dash of color.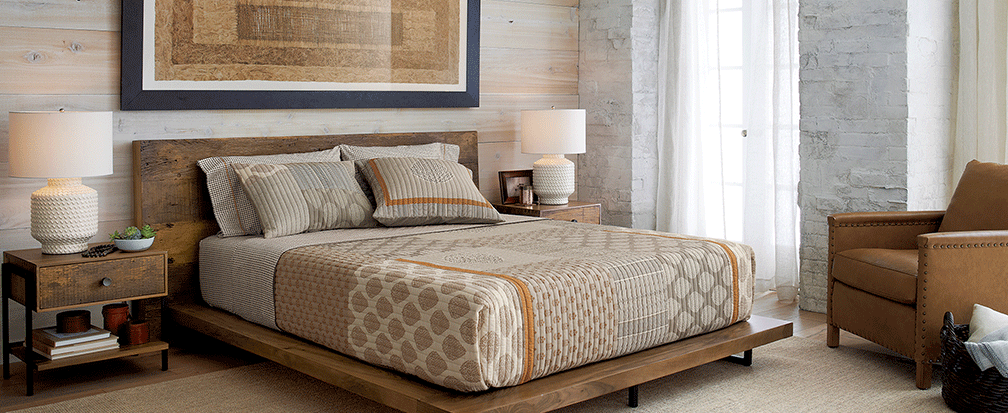 A Natural Romantic
The combination of warm white walls, calming green accents, and rich wood elements can help channel romance in a bedroom. Choose dressers with gentle curves or distressed patinas. Add an upholstered bed or chair with nailhead accents. Dress your bed in linens that hint at the outdoors (leaves, feathers, flowers). Finish off the room with mirrors and glass lighting to reflect the natural light from your windows—and give your bedroom the wake-up call it needs.
For more bedroom color scheme ideas and inspiration, check out our Rooms We Love.
Back to Top