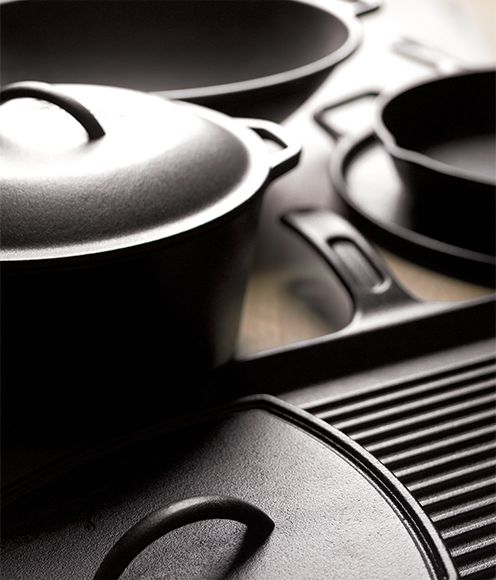 An American Classic Lodge® Cast Iron
Lodge cast iron cookware has been made by four generations of the same family in the same Tennessee foundry since 1896. Chances are they made your grandmother's skillet. Prized for its ability to hold high heat, Lodge cast iron is the ideal choice to sear, brown and blacken—you can even use it right on the grill. Pre-seasoned with a vegetable oil finish, each piece provides a natural, easy release cooking surface that gets better and better each time you cook with it.
SHOP CAST IRON COOKWARE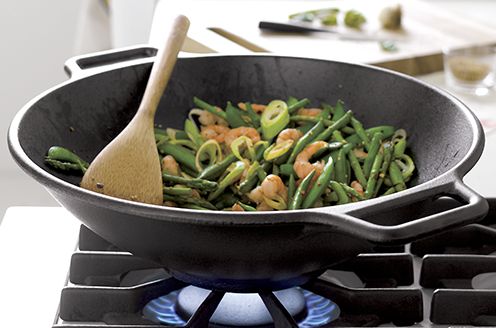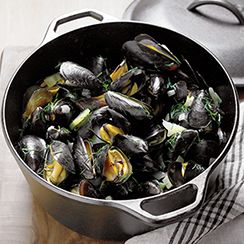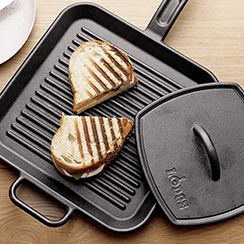 Cooking and caring for your Lodge cast iron cookware couldn't be easier.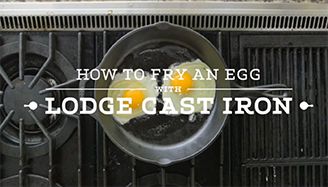 How to Cook an Egg
Lodge cookware makes a breeze of cooking up the morning's eggs. Preheat pan on medium low heat for five minutes. You'll know when the pan is ready when a sprinkle of water dances on the cast iron pan. Add butter or cooking oil, break open the eggs, season and cook to perfection.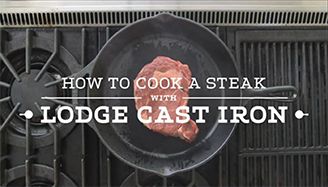 How to Cook Steak
Lodge cookware makes a simple task of steakhouse-worthy cuts of beef. Begin by preheating oven to 350 degrees and preheat skillet on medium high heat for about 5 minutes. It's ready when a sprinkle of water vanishes when hitting the pan. Brush pan with cooking oil and sear steak for two minutes, season and flip, cooking for two minutes more. Place pan in oven and cook for four minutes for a 1½" steak. Remove meat from pan and let rest for at least five minutes for a juicy steak that's perfectly cooked. Surface with a bit of water, which will dance for sauté and disappear for higher temperatures. Treat the pan to some cooking oil and you're ready to cook.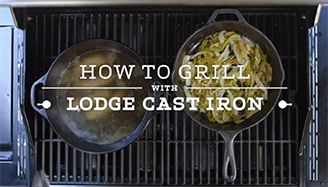 How to Grill
Versatile, durable Lodge cookware is great for braising and sautéing on the grill. Take a meal of grilled brats with peppers. For the braising liquid, place a Dutch oven or deep skillet on a gas or charcoal grill heated to medium high. Pour in four 12 oz. cans of beer, bring to a simmer and cover. Lightly pierce sausages with a fork, add to simmering liquid and cook for 10 minutes. As the brats simmer, heat a skillet for five minutes. When hot, add a tablespoon of butter and then one onion and two peppers, sliced. Sauté for five to seven minutes. Brown the brats, toast the buns and you're ready to assemble a great grilled meal.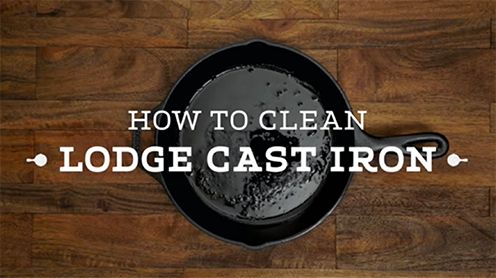 How to Clean
Cleaning off that great sear and browning couldn't be easier. Rinse off cast iron cookware with hot water and a squirt of dish soap if desired, scrubbing or scraping up any cooked-on residue with a pad or brush. Dry with a soft cloth, add a drop or two of cooking oil and swipe clean with a paper towel. Your Lodge cookware is now clean, seasoned and ready to use.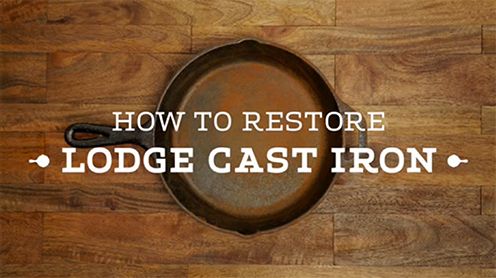 How to Restore Cast Iron
Bring your discolored Lodge cookware back to life in a few simple steps. First scrub off rust with steel wool and rinse clean, using dish soap if you wish. Dry and wipe the interior and exterior with a bit of cooking oil. Heat oven to 350 degrees, line the bottom shelf with foil and place inverted cookware on top shelf. Bake for one hour and cool in oven. Good as new, your cookware is now clean, seasoned and ready for use.


shop cast iron cookware