Entertaining
Your Guide to Sous Vide
Sous vide cooking is an easy way to prepare restaurant-quality meals in the comfort of your home, without the need to closely monitor temperature and time. If you're looking to introduce sous vide cooking into your repertoire but are not sure where to start, you've come to the right place. Our sous vide buying guide will show you why a sous vide device is the perfect addition to any kitchen.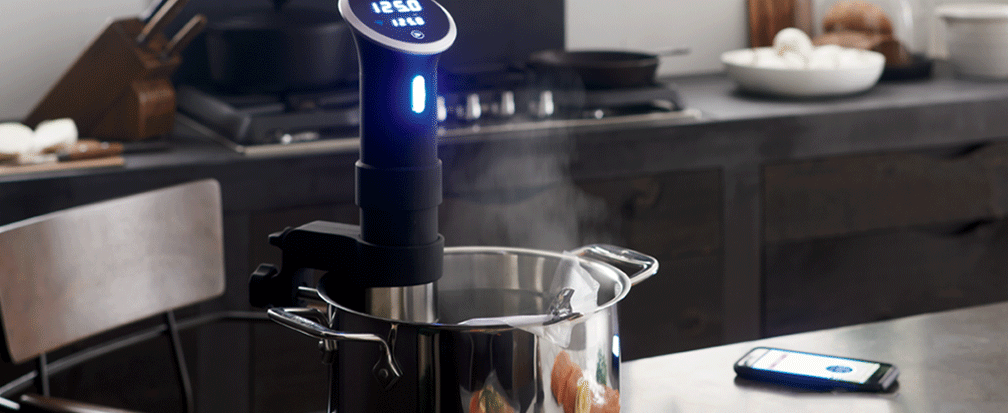 What is Sous Vide?
Sous Vide, a French cooking technique popularized by professional chefs in the 1970's, directly translates to "under vacuum." To use this cooking technique, add foods into a closed pouch, which is often vacuum sealed. Place the pouch into a hot water bath and use a sous vide cooker to precisely control the temperature of the water, cooking your meal to perfection.
Why Use The Sous Vide Technique?
The sous vide cooking technique provides many benefits to the home chef. The sealed pouch holds in all the natural juices and aromas during cooking, resulting in a more flavorful meal. Sous vide cookers maintain precise control over the temperature of foods and cooking times, ensuring consistent results. The ability to control these variables allows a home chef to produce meals with flawless results, enhanced flavor and perfect texture. Additionally, these devices allow you the ability to prepare restaurant-quality meals without the need to remain tied to the kitchen. Simply set the sous vide cooker to your desired cook time and temperature, and then walk away as it delivers consistent, delicious results.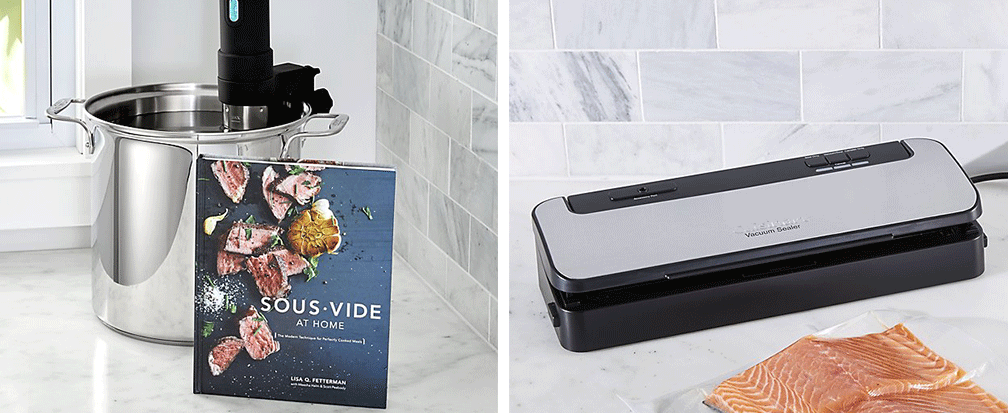 Sous Vide Buying Guide
There are two types of sous vide devices: water bath cookers and immersion circulators. Both use the same technique: cooking food inside vacuum-sealed pouches in a hot water bath. However, each device achieves the desired temperature in a different way. Water bath sous vide cookers heat the water to a desired temperature in a closed chamber, while the immersion circulators circulate the water to the designated temperature. Water bath sous vide devices are stand-alone kitchen appliances that completely contain the cooking water and the sealed packets of food. Water bath devices are insulated with air, which retains heat, keeps the temperature consistent and reduces the amount of energy needed to operate the appliance. Immersion devices attach to the side of a pot and heat the water through circulation. The beauty of immersion circulators is their flexibility. Because the heating mechanism circulates the water inside the pot or saucepan, you can use many different pot sizes. Immersion circulators are also very compact, saving space in kitchen cabinets. For the tech-savvy home chef, look for sous vide devices that include WiFi capabilities. This allows you to start and stop the cooking process, check on your meals and control the cooking temperature and time using a smartphone.
Share your sous vide cooking experiences with us by using the hashtag #CrateStyle.